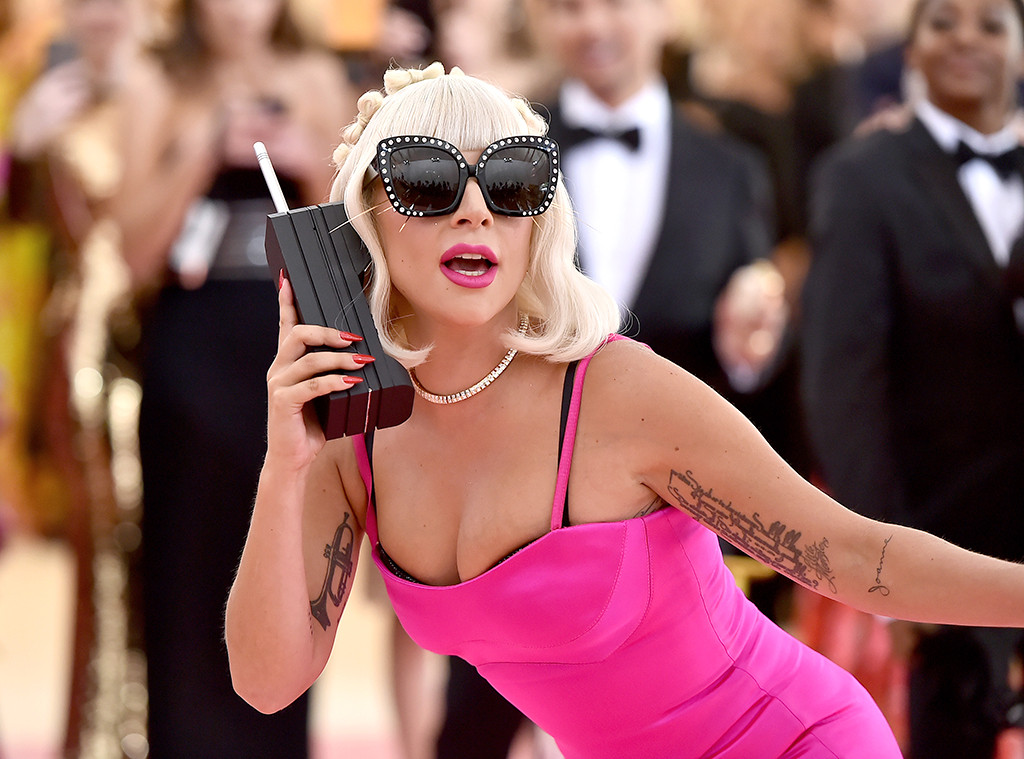 Theo Wargo/WireImage
Is it just us or does it seem as if the epic performances of "Shallow" were years ago?
But no, it was in 2019 that Lady Gagatook to the stage on multiple occasions to belt out the ubiquitous anthem from A Star Is Born, most memorably when co-star Bradley Cooper joined her, once as an OMG-level surprise at her show in Las Vegas and again when everyone was expecting it but didn't know what to expect, at the Oscars. Oh, how the glances and tender moments were analyzed.
What actually was years ago, 10 in fact, was the release of another one of her greatest songs, "Bad Romance," the lead single off The Fame Monster, featuring that inimitable chanting hook, sexy yet despairing lyrics and a pre-meat dress Gaga savvily creeping toward the peak of her powers. She would eventually win Best Female Pop Vocal Performance and Best Short Form Video for the song as well as Best Pop Vocal Album, all in 2011 due to the early cut-off date that made those 2009 releases ineligible for the 2010 Grammys.
But all the better for her to show up to the 2011 Grammys in an egg, because she was already into her Born This Way era.
Anyway, The Fame Monster (even combined with its original incarnation, The Fame) remains her best-selling album and songs like "Bad Romance"—utterly danceable and catchy but also a glimpse into Gaga's inspired, lusty, tortured soul—were the reason.
Also, who can't identify with wanting something that's delicious, even—or especially—when you know it's bad for you?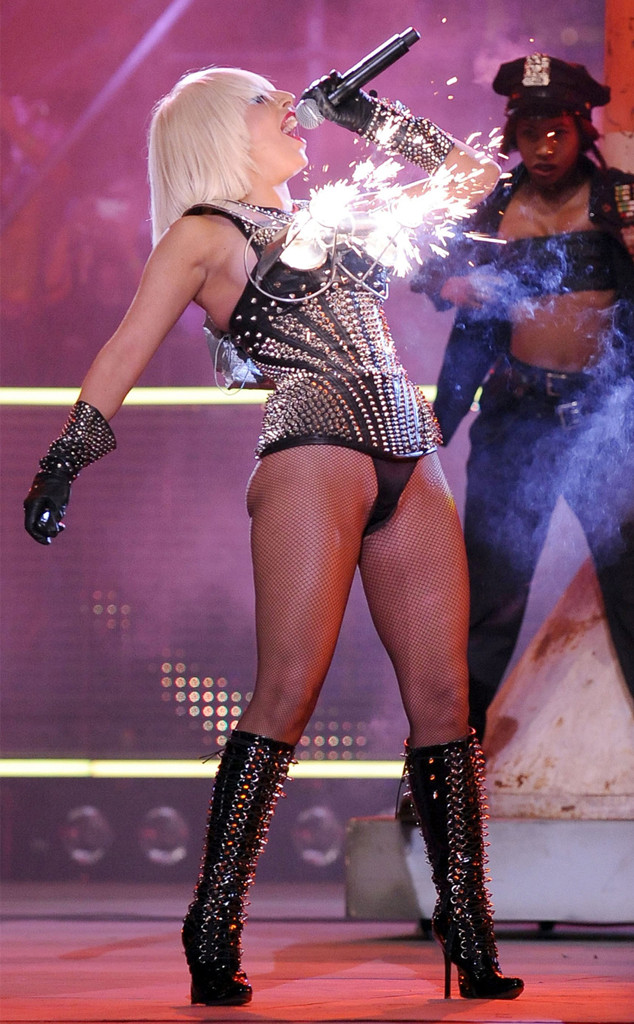 George Pimentel/WireImage
The ever-fierce Gaga has shown a flair for adventure in every aspect of her career as an artist; her fashion; her devoted advocacy for equality, tolerance and mental health awareness; and her fearless approach to real-life romance, knowing full well that what starts off good could at some point turn bad. But such is the risk we all take, and it's either going to work or it doesn't.
"I think women love very hard," she said on CBS Sunday Morning in 2016. "We love men. We just love with everything we have. And sometimes I don't know that that love is met with the type of dignity that we wish it would be met with."
In honor of the enduring reality of "Bad Romance," certified 11-times platinum by the Recording Industry Association of America, we untangle Lady Gaga's romantic history, from the serious loves in her life to some who stayed only temporarily in her orbit: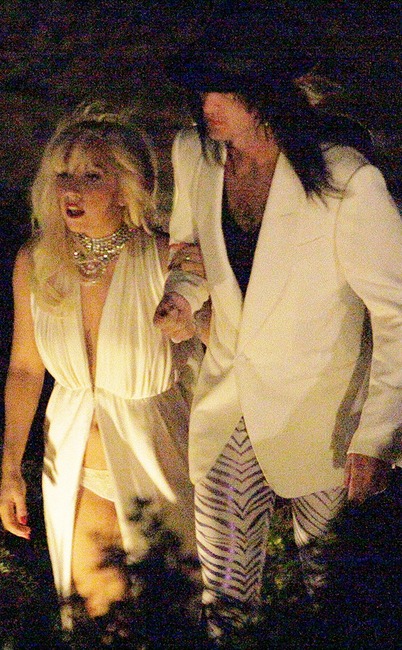 SplashNews.com
Luc Carl
The bar manager and metal drummer, the "cool Nebraska guy" from "Yoü and I" who also inspired half the songs on The Fame, including "Paparazzi," as in she was the one obsessed with watching his every move, was with Gaga off and on for six years—and their breakup was devastating for her.
They had met when he was tending bar at St. Jerome's in New York, where Stefani Germanotta was a regular.
"I was his Sandy and he was my Danny, and I just broke," Gaga, who had ranked Carl right up there with Jesus and her dad as the most important men in her life, told Rolling Stone in 2009.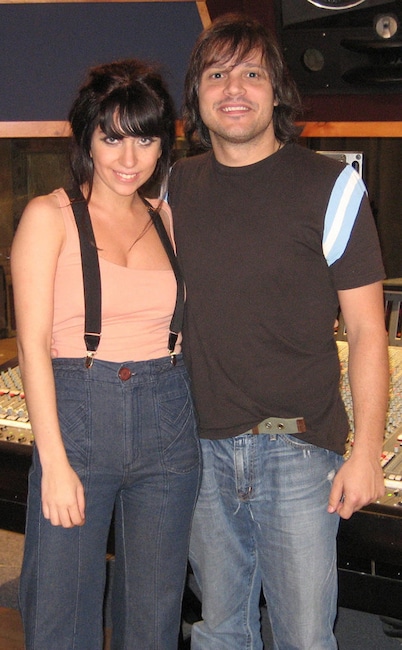 SplashNews.com
Rob Fusari
Stefani met the New Jersey-based Parsippany, N.J.-based record producer when she was 19—the age at which she has said she became Lady Gaga—and he's the one who encouraged the reluctant singer-songwriter to add the dance beats that infuse her early work. As she added more of a performance-art quality to her act, he drifted out of her life but, according to a January 2010 story in the New Jersey Star-Ledger, they remained friends.
"It was a bit of the mini-Frankenstein here," Fusari said. "It was like the doctor who creates this thing and all of a sudden when it lives, it goes off on its own. Of course I miss her, but I'm also very proud of her and happy that it went as big as it did."
Fusari sued Gaga two months later for $30.5 million, basically alleging that he had been essential in launching her career, that they had been both business and romantic partners, and she had neglected an alleged deal they made that entitled him to 20 percent of song royalties and 15 percent of merchandise.
"When those personal relationships evolve into romantic entanglements, any corresponding business relationship usually follows the same trajectory so that when one crashes they all burn. That is what happened here," the lawsuit stated.
She countersued, alleging he goaded her into signing an illegal contract; Fusari dropped his suit in September 2010 after they reportedly reached an undisclosed settlement. Fusari was subsequently sued by Wendy Starland, who claimed she played a key role in discovering Lady Gaga along with him—and Gaga (who never acknowledged dating Fusari) backed her up in a deposition. Starland was awarded $7.3 million in November 2014.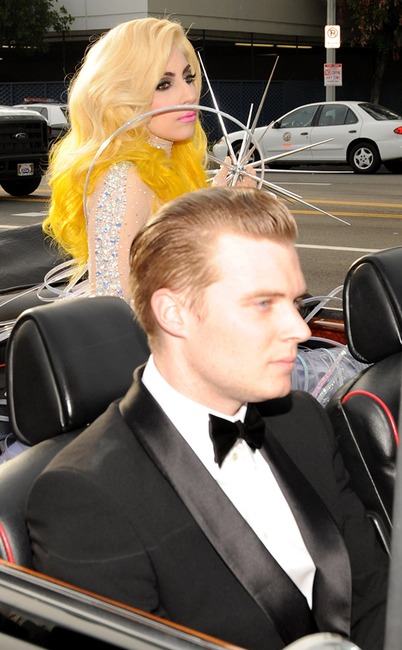 Kevin Mazur/WireImage)
Matty "Dada" Williams
Gaga met the L.A. designer at a sushi restaurant one night and briefly dated him before deciding they'd be better as business buddies. He eventually became creative director of Haus of Gaga, and was the one who fashioned the LED-illuminated disco stick she first showed off in New York in 2008.
"Dada is quite brilliant and we were crazy lovers," she told London's Sunday Times. "But it stopped when we discovered what a strong creative connection we had. I didn't want it just to be about careless love."
Williams recalled to i-D being "mesmerized and blown away by her talent."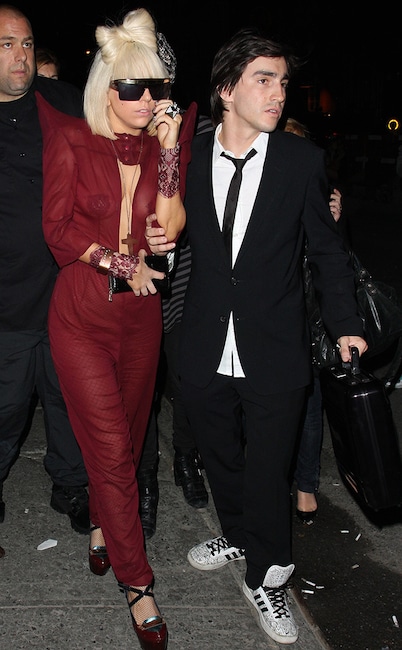 SplashNews.com
Speedy
For at least part of 2009, Gaga dated Speedy, a model and dancer who was in her "LoveGame" video. "He thinks I'm pretty," she purred while curled up in the back of her tour van with him while she was giving an interview to Rolling Stone.
Still hurting from her breakup with Carl, though, the singer explained that she was happiest working all the time, that not working made her a bit crazy. "Speedy means a lot to me," she said, "but my music's not going to wake up tomorrow morning and tell me it doesn't love me anymore. So I'm content with my solitude. I'm OK with being alone. I choose to have someone in my life when I can." She also told RS at the time that she considered herself bisexual, though she had never been in love with a woman. Still, she hadn't yet had a boyfriend who could handle the concept. "The fact that I'm into women, they're all intimidated by it," Gaga said. "It makes them uncomfortable."
E! News reported in July 2009 that Speedy broke up with Gaga after seeing a photo in The Sun of her kissing another bloke, with a source telling us, "It was hard enough for them to be in a long-distance relationship, but then this came out and it was over for him."
Lady Gaga: The Unauthorized Biography, meanwhile, reported that she broke up with him because she couldn't be with someone so jealous, after he threw a fit over her makeout scenes in her "Paparazzi" video.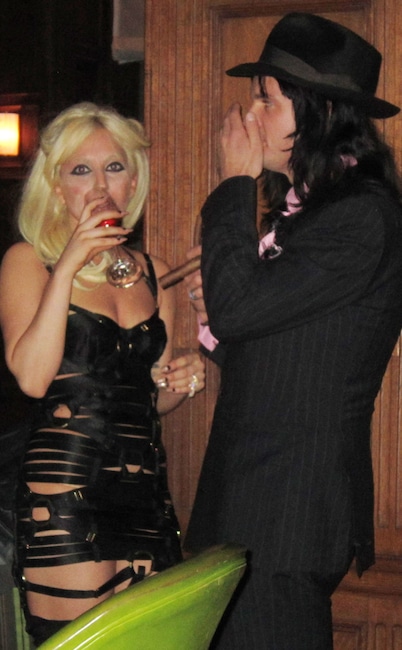 SplashNews.com
Luc Carl
And then she got back together with Carl in July 2010, and they gave it another go until parting ways for good in 2011.
"I've really never loved anyone like I loved him. Or like I love him," she told Rolling Stone. "That relationship really shaped me. I sort of resolved that if you can't have the guy of your dreams, there are other ways to give love."
"Her life, needless to say, completely changed, and I'm not the type of guy who can sit on someone else's yacht sipping champagne," Carl, who had penned a book called The Drunk Diet, told Blackbook in 2012. "Unfortunately, to date someone who is never in the same country, let alone zip code, you had better be rich or be willing to live off of their money. I was neither."
He didn't love being mainly known as Lady Gaga's ex, either but, Carl said, "She's an amazing woman and I wish her all the best in the world. Although I think we all know she already has it."
Carl also didn't want to focus too much on the past with the New York Times, but he told the paper, "The truth is that she was a huge part of my life for a long time, longer than people realize. Sometimes things don't work out. I was madly in love for a long time."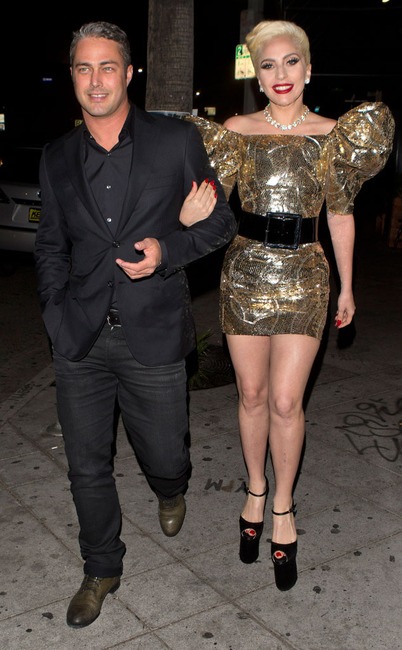 SPW / TwisT / Splash News
Taylor Kinney
It was fire meets Chicago Fire when Gaga started dating actor Taylor Kinney, a cool Pennsylvania guy she met when he starred in her "Yoü And I" video in 2011.
"I remember I went up, and we're rolling, and I kissed her and she didn't expect it," Kinney recalled on Watch What Happens Live. "They cut, and she slapped me. And then it was just awkward. And then the next take, I just did it again and then she didn't slap me. She didn't slap me then."
They steadily grew more serious and in 2014 Gaga told Howard Stern that she just knew Kinney was the guy. "I really can't imagine being with anyone other than who I'm with right now," she said. Moreover, he's "supportive of everything I do," she told the U.K.'s Times, "loves me from the inside out. And he is completely blind to the way that I dress, my creative process as it is—he knows me as the Italian-American girl my mother and father gave birth to."
"He's a hidden weirdo. He is extremely strange, actually, and we complement each other's weirdness," Gaga had told Ellen DeGeneres in 2013, dispelling the outward opposites-attract vibe that emanated from the couple.
Kinney—who on the side is an artist who enjoyed using his girlfriend as a canvas for drawing and painting—felt the same, and proposed in 2015.
Alas, something went awry along the way, and in July 2016 they announced they were taking a break. Gaga took to social media to encourage fans to root for them, that they still believed they were soulmates and wanted to figure out how to make "the simple love we have always shared" work.
Asked if "Perfect Illusion" off Joanne was inspired by Kinney, she told E! News that fall, "I would just say that my music on my album as well as all my albums is inspired by my personal life and this one more than others. I have said it before—I love Taylor so much and he's my best friend."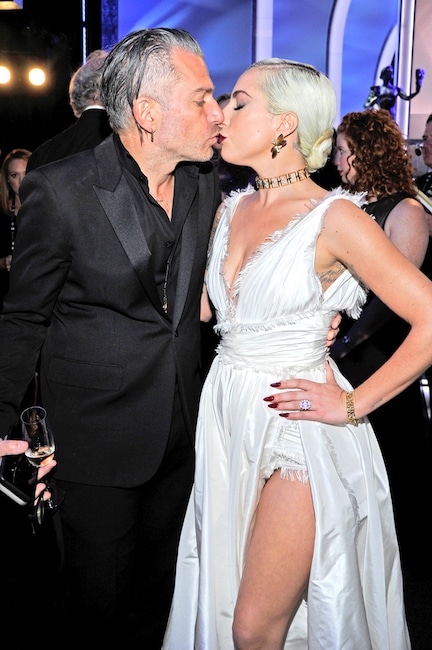 John Sciulli/Getty Images for Turner
Christian Carino
She and Taylor never did find a way to get it back to good, and Gaga eventually moved on with her agent at CAA, whom she was spotted smooching before her Pepsi Halftime Show performance at the Super Bowl in 2017.
"My threshold for bulls–t with men is…I don't have one anymore," she says in the 2017 Netflix documentary Gaga: Five Foot Two. "I just don't care. Maybe cause I'm 30 and I feel better than ever, you know? All my insecurities are gone, I don't feel insecure about who am I as a woman. I'm not embarrassed or ashamed of what I have."
What had also changed was her willingness to talk about her love life.
She and Carino quietly got engaged later that year and the singer—who had also been busy making A Star Is Born and launching her Las Vegas residency—didn't even confirm as much until she called Carino her fiancé at Elle's 25th Annual Women in Hollywood Celebration in October 2018.
But after her eventful 2019 awards season, which included Golden Globe, Grammy and Oscar wins for "Shallow," Gaga and Carino just as quietly split up.
"Last time I sang this song, I had a ring on my finger, so it'll be different this time," she told a Vegas audience in June, her first comment on the matter, as she launched into "Someone to Watch Over Me."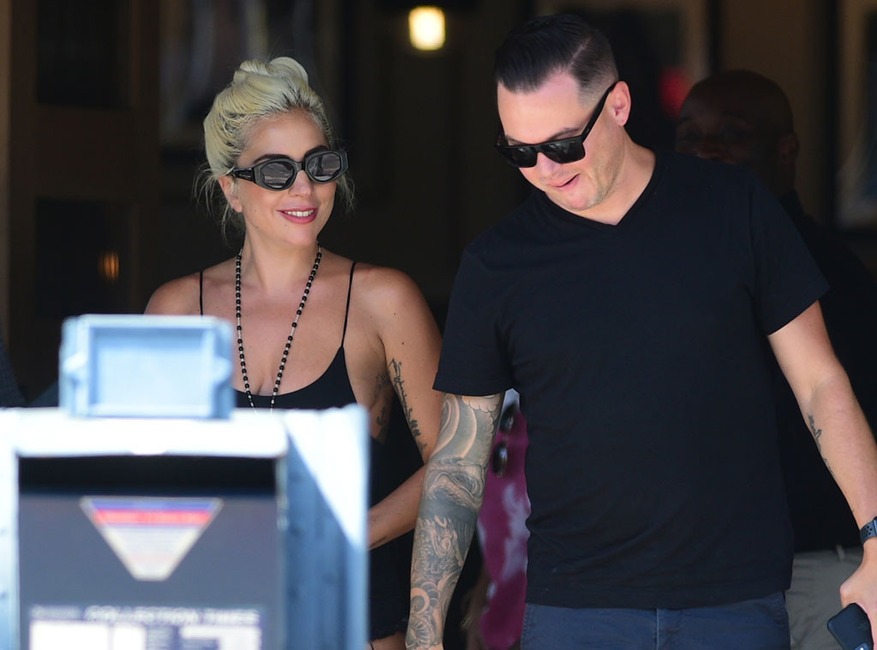 TheImageDirect.com
Dan Horton
Gaga seemed to be having fun with her audio engineer beau of a couple months at a concert in August, but they have since gone their separate ways.
She referred to herself as a "single lady" in an Instagram post taken with a bride-to-be friend after writing, "I might be in a lot of pain but I couldn't miss my best friend's bachelorette dinner."
Just this week, Gaga called fame to a prison, be it because of the metaphorical walls that stand between her and a normal life, or that prevent her from getting too close to someone; the fishbowl aspect in which people are ever angling for a glimpse; or the feeling of being trapped in a surreal existence.
Try as she might, she has always had the suspicion that her devotion to her craft and her innate desire to always be working might not be able to coexist in the long run with a committed relationship.
"I'm so excited to do it, but I can't help but realize that when I sold 10 million records, I lost Matt," she says in Gaga: Five Foot Two, when she's preparing for her Super Bowl performance. I sold 30 million and lost Luc. I did a movie and lose Taylor. It's like a turnover. This is the third time I've had my heart broken like this."
By then she was dating Carino, who didn't turn out to be Mr. Right, either.
But everyone thinks they've met him in the moment, as Gaga did when she was happily ensconced with Kinney. The reality is, she just hasn't met him yet.